I am aware that many of you spend most or a good part of your life working in a laboratory or something related to that. Some people are better than other doing lab research or experimentation, but the basis of why is that true are mainly two:
Practice, practice, practice. The most important part of learning how to efficiently perform tasks in a laboratory is just spending time on it. No magic tricks on this part. That's up to you, we cannot do anything to help you on this part, but we can help you with:
Improving your performance by knowing and using tricks and strategies to approach your daily problems and get better at the lab.
In this article, I am going to show you some tricks and strategies that will help you increase your efficiency at the lab. I have gathered all of this information through the years, from my own experience, colleagues' experience, reading books, and other kinds of material. I have tried most of them on my own and can confirm they work perfectly well. I have heard many chemists or chemistry students crying because they get overwhelmed by lab work and the difficulties they find every day.
The reason I want to share them with you is basically that when I first learned about them they happened to be really useful, and I had never thought of them. Some of them are more widely known, but I think is worth posting them, because they should not be unknown for anyone in this chemistry business. Anyway, I am sure that you will learn something really interesting here today, so keep reading!
1. If you want to purify little amounts of a product, you can just use syringes as "mini columns". They work just very fine to this job.
How do you proceed? Just put a bit of cotton at the bottom of the syringe to plug the end, fill it with silica, and you are ready to proceed adding the solvent and then your crude product. You can of course apply pressure using the syringe's plunger.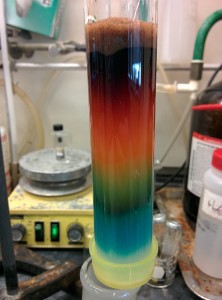 Why does this work in many cases? You need to keep in mind that in order to purify a compound in the lab you must use a column of a size which is proportional to the quantity of compound you need to purify. Sometimes "standard lab size" columns just do not fit this description, and you need a rapid solution. This will work perfect. Remember also that when it comes to column purification (although in some cases is unavoidable for tricky purifications), in most of the situations the more silica you employ, the more product you will lose (also there are exceptions where stuff just quantitatively separates from silica) so this micro scale columns are ideal.
A syringe is not required. I know someone who runs columns in glass pipettes all the time. The procedure is just the same, take a pipette, put in some cotton and fill it with a few spatula-fills of silica. Alternatively, glass wool or chem Kimwipes can be used to plug the end of the mini-columns instead of cotton.
Now is time for a simple but extremely useful trick to get better at the lab!