Today I will tell you a story. And it is a very good one. Even though probably most of you are not the kind of people who make potential "customers" to this kind of scam, you can trust me when I tell you that this is worth a read. Especially, make sure that you share it with all your friends and acquaintances that could get tricked into something like this.
I will talk about water purification systems legal scams. First of all, I want to point out that this story is not mine: A friend of mine that happens to be a chemist narrated it to me and allowed me to transmit it to all of you.
Apparently, through a customer satisfaction survey about water, this man's wife was drawn into agreeing to receive a salesperson at home with the objective of selling them some of their products. This process would consist on a water analysis and a demonstration about the efficacy of their products.
Now I want to clear something up: I've been told many times that this kind of companies send commercial agents in many European cities to exploit the lack of knowledge of the old people or people without studies and who are worried about their health. These companies try to deceive and make people believe in their over-priced products like something that could save their lives. The problem is not that the products that they sell don't work properly, the problem are the methods that they employ to convince the poor people, and trick them into wasting (because there is not an actual need of these products in almost any case) their money.
As far as I know, the products that most companies of this nature try to sell are reverse osmosis apparatus. For those who might not know how these instruments work, let's explain it in a nutshell. They are based on the phenomenon of osmotic pressure, which is defined as the minimum pressure that needs to be applied to a solution to avoid that the solvent flow through a semipermeable membrane which separates the solution from other solution more concentrated.
Reverse osmosis apparatus work as is explained in the following scheme: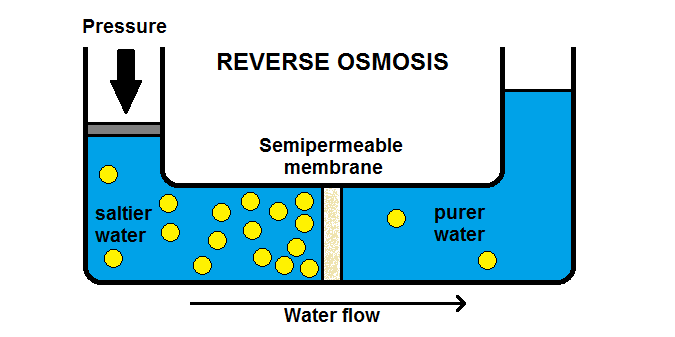 Applying very high pressure to the compartment containing water with higher impurities concentration will make the water flow through the semipermeable membrane, allowing us to obtain purer water on the second compartment.
These instruments work fine, but the point is: They are very expensive (thousands of dollars/euros), and they are completely useless in a normal city home!… [Read More]