Today I will tell you a story. And it is a very good one. Even though probably most of you are not the kind of people who make potential "customers" to this kind of scam, you can trust me when I tell you that this is worth a read. Especially, make sure that you share it with all your friends and acquaintances that could get tricked into something like this.
I will talk about water purification systems legal scams. First of all, I want to point out that this story is not mine: A friend of mine that happens to be a chemist narrated it to me and allowed me to transmit it to all of you.
Apparently, through a customer satisfaction survey about water, this man's wife was drawn into agreeing to receive a salesperson at home with the objective of selling them some of their products. This process would consist on a water analysis and a demonstration about the efficacy of their products.
Now I want to clear something up: I've been told many times that this kind of companies send commercial agents in many European cities to exploit the lack of knowledge of the old people or people without studies and who are worried about their health. These companies try to deceive and make people believe in their over-priced products like something that could save their lives. The problem is not that the products that they sell don't work properly, the problem are the methods that they employ to convince the poor people, and trick them into wasting (because there is not an actual need of these products in almost any case) their money.
As far as I know, the products that most companies of this nature try to sell are reverse osmosis apparatus. For those who might not know how these instruments work, let's explain it in a nutshell. They are based on the phenomenon of osmotic pressure, which is defined as the minimum pressure that needs to be applied to a solution to avoid that the solvent flow through a semipermeable membrane which separates the solution from other solution more concentrated.
Reverse osmosis apparatus work as is explained in the following scheme: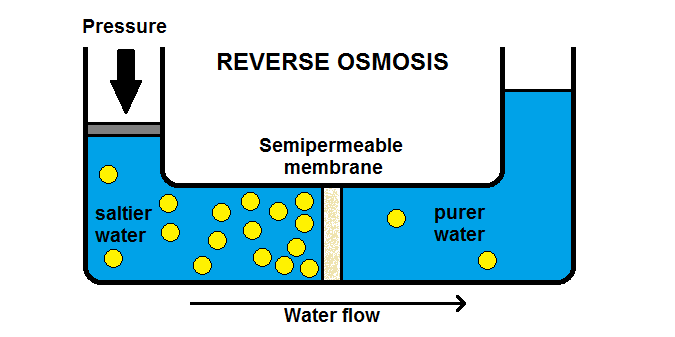 Applying very high pressure to the compartment containing water with higher impurities concentration will make the water flow through the semipermeable membrane, allowing us to obtain purer water on the second compartment.
These instruments work fine, but the point is: They are very expensive (thousands of dollars/euros), and they are completely useless in a normal city home!
What are the common techniques employed by the companies to sell these products? Probably many of them will sound familiar:
Water contains chlorine, which is very toxic and carcinogenic! Most of their targeted potential customers will not even be able to tell between chlorine and chloride ions.
Companies also try to convince people that you need their "magically purified" water to cook, because "chlorine adheres to the food we are consuming".
Those commercial agents also state that electrolytes are also carcinogenic the smaller the conductivity of the solution, the best it will be for you. Seems legit.
All imaginable kinds of bullshit.
Well. This is basically the introduction. I just wanted to show you how these companies are performing these kinds of legal scams every day, all over the world. Now the time for the story has come.
As I told you, this friend of mine –who I'm going to call by the nickname "Cerberus" from here- is a chemist, and as soon as his wife told him about the appointment she had scheduled in exchange for a one day free hotel stay coupon, and being aware of these kinds of water purification scams going on, he decided to take action.
They were not expecting him, and he decided to prepare a little set of chemical demonstrations. The salesperson is supposed to ask you for a glass of tap water and a glass of bottled mineral water. And then they are supposed to perform an analysis for chlorine (I believe they use o-toluidine, product used in swimming pools for this purpose), a conductometry and a water hydrolysis. All of these methods are completely valid: But they make an incorrect interpretation of the results to deceive and scare people tricking them into their scam.
So Cerberus planned to start acting and talking as a layperson. He had prepared a bottle filled with deionized water from the laboratory he works in (conductivity of 0.055 μS) mixed with some osmotic water, to make the trick not so evident.
Part one: Concerning Quicklime and Micelles
The salesperson arrived home and after a short introduction about their company, he asked Cerberus to fill a Labbox low cost 100 mL Erlenmeyer flask with tap water. Also, he took a column that was supposed to remove quicklime (CaO, calcium oxide) and filled another Erlenmeyer flask making water pass through the column. He told that they were about to determine water's quicklime level, so he transferred 10 mL of each water to two vials. He added a compound that was supposed to turn pink in presence of burnt lime and blue when there was no lime present.  Obviously this was just Eriochrome Black T [1], and as expected, raw tap water turned pink and filtered water turned blue.
After that, the salesperson stated that tap water definitely had quicklime, so now he will determine its quantity by "adding drops of a solution until blue water turned pink". Cerberus asked him about the nature of the reagent, but the agent had no idea. It obviously was an ETDA solution [2]. The agent dramatically and slowly added 40 drops of the solution.  Then water turned pink. He said that those 40 drops were equivalent to about "450 ppm of quicklime". The agent used another method to analyze calcium, once again using an unknown reagent, which made calcium salts precipitate out of the solution. Cerberus didn't say anything else. In principle, everything was "all right".
Then he started to talk about other uses of water: Time to perform an analysis to know how well was their tap water to use it on a washing machine. The salesman stated that the most important thing is that their soap could make big quantities of foam with water, so the cleaning process was better (which is, of course, absolutely false), how do you like that?
He used mysterious water that had brought in his briefcase to mix it with a mysterious soap he also had, and showed that mixed together; they produced a large quantity of foam. Then, he mixed his soap with tap water, and no foam was produced. Something was clearly wrong, so Cerberus told him "it seems your soap is a little bit bad…", and mixed his own soap with tap water, producing even a larger amount of foam than was formed out of the mysterious water and mysterious soap mixture. The agent justified it by saying that his soap was diluted to simulate the water/soap proportion inside a washing machine. Yeah, whatever.
Part two: Houston, We've Had a Problem
After a short break in which the agent tried to convince Cerberus and his wife that water treatment was absolutely necessary where they live, the party was about to get started.
The agent asked for four glasses. Glass A was filled with tap water. Glass B was filled with water from a jar. Glass C was filled with osmotic water that the agent had brought in a bottle (so he didn't have to "bring the whole apparatus"). Glass D was filled with mineral water. Note that mineral water, as it was explained a few paragraphs back, was actually 50% deionized water from the lab, and 50% osmotic water, from the laboratory too.
The agent took an instrument out of his briefcase. He didn't say what it was, but it was a portable conductometer. Cerberus asked him what was he about to determine, and the salesman told him that "everything that is on water in general". Well, fair enough… I guess.
The instrument transformed the conductivity measurements to ions concentrations, in parts per million.
The following results were obtained:
Glass A (tap water): 550 ppm
Glass B (jar water): 450 ppm
Glass C (commercial agent's water): 7 ppm
Glass D (special mineral water): 6 ppm
Something wasn't convincing the agent. He left the electrode inside the "mineral water" until the value fluctuated from 6 to 7, and then stopped there. Suddenly, Cerberus' wife said: "you see that? If our mineral water is as good as your water, we should buy it all the time!" The commercial agent's face was a picture of unspoken words. He got out of the situation saying that this specific brand of mineral water was one of the best on the market. Yeah, of course: in fact, I think the most reputable analytical laboratories all across the world are starting to import mineral water of that brand to perform trace analysis.
Time to the final demonstration: The agent took out his electrolysis apparatus.  He put two electrodes (one seemed to be iron and the other one aluminum) in glass A and another pair in glass B, turned the instrument on and the show began. Bubbles started to form in the electrodes, which were getting hotter, and a brown-black precipitate started to come out of the iron electrode. So he asked what they thought about what they were seeing. Cerberus said that conductivity on those solutions is normal, as it was proved on the last experiment. The agent said that the precipitate was the dirt contained on tap water. Of course, Cerberus answered that all of that was coming from his iron electrode, and if he had put an anode of a different material, he wouldn't be filling their glasses of shit. When the agent confusion face was getting even more pronounced, Cerberus told him that he should take the electrodes out, because he was going to end up losing them.
After that, he cleaned the electrodes and then put two electrodes in glass C (his own water) and another two electrodes in glass D (special mineral water). Of course, as it was expected, nothing happened. They noticed the agent's scared face. Cerberus' wife asks once again "so the mineral water we buy is as good as yours, isn't it?" As a response, the agent said that he wouldn't dare to put his hand inside the water of his glass. Cerberus asked that of course he would, since that was non-conductive water, and he put a finger inside glass D, while the electrodes were still connected.
The salesman has even more bullshit to tell. He said that if you would put a magnet in the glasses that contained precipitate, all the solids would be attracted towards the magnet, since they were toxic metals like lead and copper. Cerberus told him that of course they will be attracted, since they were iron oxide from his electrode, and that was the only magnetic metal; if the particles were made up of the metals he was talking about, they would remain unaffected.
When the agent realized that the situation was fairly out of control, he finished the demonstrations, and proceeded to ask his final questions, like for example "After witnessing all of this, would you still use your water to cook what you eat?" Cerberus responded that, for example, bicarbonates, eliminated during the reverse osmosis process, help cooking stuff like legumes, so he prefers to stick to its tap water.
To end with the visit, they asked the agent about the price of the system. Conclusion: Column to eliminate quicklime + reverse-osmosis system = $7000 (5500€) no less! You tell me now: Isn't this a scam? Trying to swindle lay and old people like that is absolutely immoral. With that kind of money you could buy mineral water for the rest of your life.
Well, of course, this scam is not salespeople's fault. Companies that hire them and train them to bullshit like that are the actual responsible ones. Our host was of course aware of that. He felt pity and sorry for the agent and that's why he treated him fairly well. At least the salesman seemed honest.
And that was the story. I know that you would never get fooled by water purification scams like this, but you probably know people that would! (And hopefully you have enjoyed the story). Make sure you share these thoughts and story with them or your friends and colleagues; you can prevent people from wasting a large amount of money.
Do not let this happen to you or your friends/acquaintances!